Max Martin is a Swedish songwriter, producer, who is associated with many artists that became extremely famous with number one hits. And it was only recently that it became clear that it was the same person behind many of these hits. Obviously, many artists want to know the secret of how he can publish so many successful songs. In this article, we will talk about what chords Max Martin prefers, and what patterns we can find in songs he co-wrote.
The songs
We analyzed 30 songs from Max Martin to find out what chords he prefers to use. Although, keep in mind that today's songs have many songwriters, not only one. Most songs have three or four songwriters, so there aren't any songs that are written by solely one guy. But despite this, we can still see a pattern in songs in which Max Martin has participated as a songwriter.
There is one thing you should know about Max Martin. In the 90s, which was the "Backstreet Boys-era", he was the one who wrote the most hits. This includes songs for artists like Britney Spears, Backstreet Boys, N'Sync, and many others who became extremely famous at that time. But around 2001, people started to hate these cheesy songs. So naturally, Max Martin had to change his songwriting style. Today he writes very different songs, and this is why we chose songs that is written in the past 10 – 15 years. Here are the songs we analyzed for this article:
Taylor Swift – 22
Taylor Swift – End Game
Justin Bieber – Beauty and a Beat
Kelly Clarkson – Behind These Hazel Eyes
Taylor Swift – Blank Space
Jessie J – Domino
Taylor Swift – Don't Blame Me
Demi Lovato – Cool For The Summer
Taylor Swift – Dancing With Our Hands Tied
Ariana Grande – Don't Call Me Angel
The Weeknd – Blinding Lights
Britney Spears – Criminal
Selena Gomez – Hands To Myself
Ellie Goulding – Army
Taylor Swift – Bad Blood
Ariana Grande – Breathin
Katy Perry – California Gurls
Katy Perry – Dark Horse
Katy Perry – Chained To The Rhythm
Ariana Grande – Break Free
Taylor Swift – Delicate
Ariana Grande – God is a Woman
Ariana Grande – Break Up With Your Girlfriend
Katy Perry – Birthday
Katy Perry – Bon Appétit
Ed Sheeran – Beautiful People
Justin Timberlake – Can't Stop The Feeling
Ariana Grande – Dangerous Woman
Maroon 5 – Daylight
Ariana Grande – Everytime
The "four chords" myth
So, everyone knows how to write a hit song, right? You just need to use four chords, and those four chords are the I – V – VIm – IV or C – G – Am – F in the key of C major. Well, the guy who wrote the most hit songs in the past 20 years, Max Martin, would probably disagree with you. We analyzed 30 songs from Max Martin to find out how he uses chords in his songs. As it turns out, those four chords are not even his most frequently used set of chords. But let's not get ahead of ourselves.
First of all, it's not a question that Max Martin is using almost solely diatonic chords – like most songwriters who write hit songs. This means he is using chords from within the key. This is very common with other hit song writers, for example, we have seen this with Ed Sheeran and Ariana Grande too. And keep in mind that many of these songs are co-written by these artists.
Can four chords be enough for a hit? Well, yes. But Max Martin uses five chords more frequently than other artists. The chart below shows how many chords he is using in a song. We can see that most of the time, he is using four chords. 40% of the songs have only four chords. But 33% of Max Martin songs have five chords! So if you are Max Martin, you will probably write songs with four chords, BUT if not, the second-best choice is using five chords. This is very different from what we have seen in Ed Sheeran's songs. Sheeran uses five chords less frequently!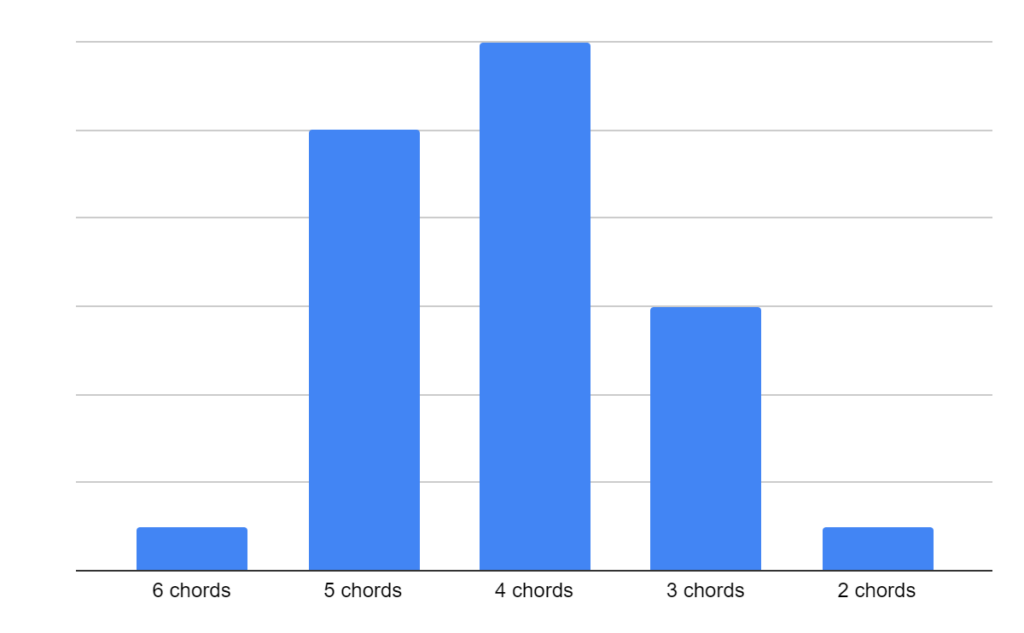 Now the question is, what are Max Martin's favorite chords? We wrote down the chords from the songs with roman numerals so we can measure them in the same system. We can draw many conclusions from this chart. First of all, we can see that his number one favorite chord is the VIm. He uses this chord in almost every song. In fact, he uses this chord more frequently than the tonic "I" chord! Many people think that you need to use the tonic "I" chord in every chord progression, but that's not true at all. The "VIm" chord is included in 94% of his songs, but the tonic "I" chord is only present in 76% of these songs.
His second favorite chord is the IV. We saw this pattern with other hit songwriters like Ariana Grande, Taylor Swift, and Ed Sheeran. If you want to write a hit song, you need to include these two chords.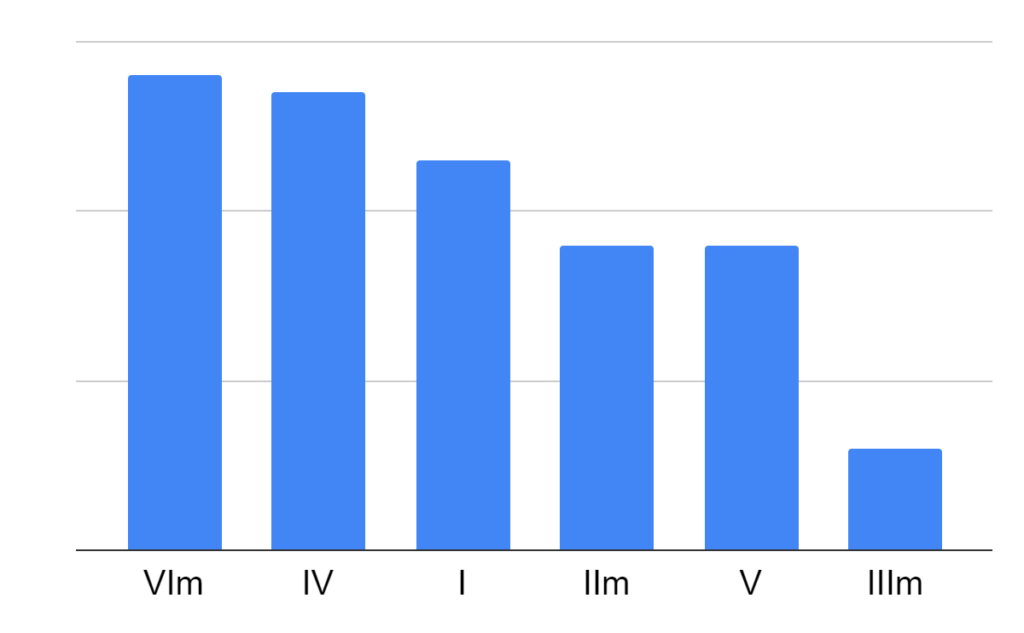 The IIm chord
And here is a big one. Max Martin uses the IIm chord at least as frequently as the V chord. This is also very different from what we have seen from artists like Ed Sheeran. While Sheeran also uses this chord in some of his songs, it looks like Max Martin is more obsessed with it. In fact, 60% of these songs contain the IIm chord!
In the song "Criminal", performed by Britney Spears, the IIm chord becomes the tonal center in the verse, which means, Max Martin wrote this song in the Dorian mode.
Many people believe that you need to use those infamous four chords to make a hit song. But the truth is, the I – IV – V – VIm chord combination is not even his most frequently used one. He is using the chord set "I – IIm – IV – V – VIm" more frequently than those infamous four chords!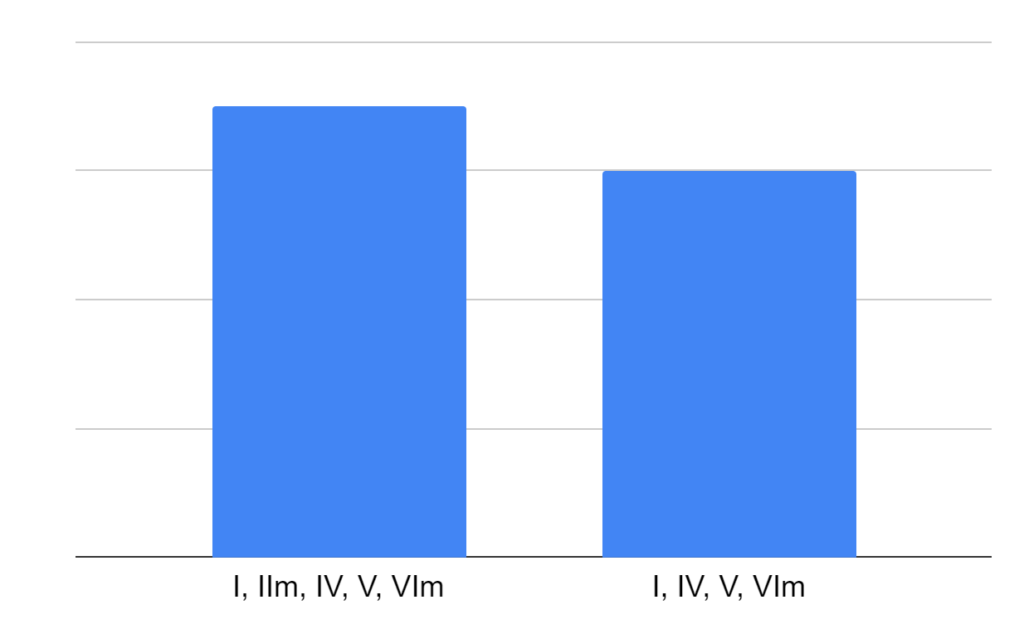 Is it loopable?
Today, many hit songs have the same chord progression in the entire song, so there is no difference between the parts in terms of chords. You can perform these songs with a loop pedal, playing the same chords in a loop and singing the melody on top of them. In reality, not all hit songs have a loopable chord progression, but Max Martin uses a loopable chord progression about 50% of the time. This is another big difference, compared to artists like Ed Sheeran who has less loopable songs. Not surprisingly, they co-wrote the song "Beautiful People", which has a loopable chord progression.
The secret pattern behind successful songs
Get the eBook for $4.99