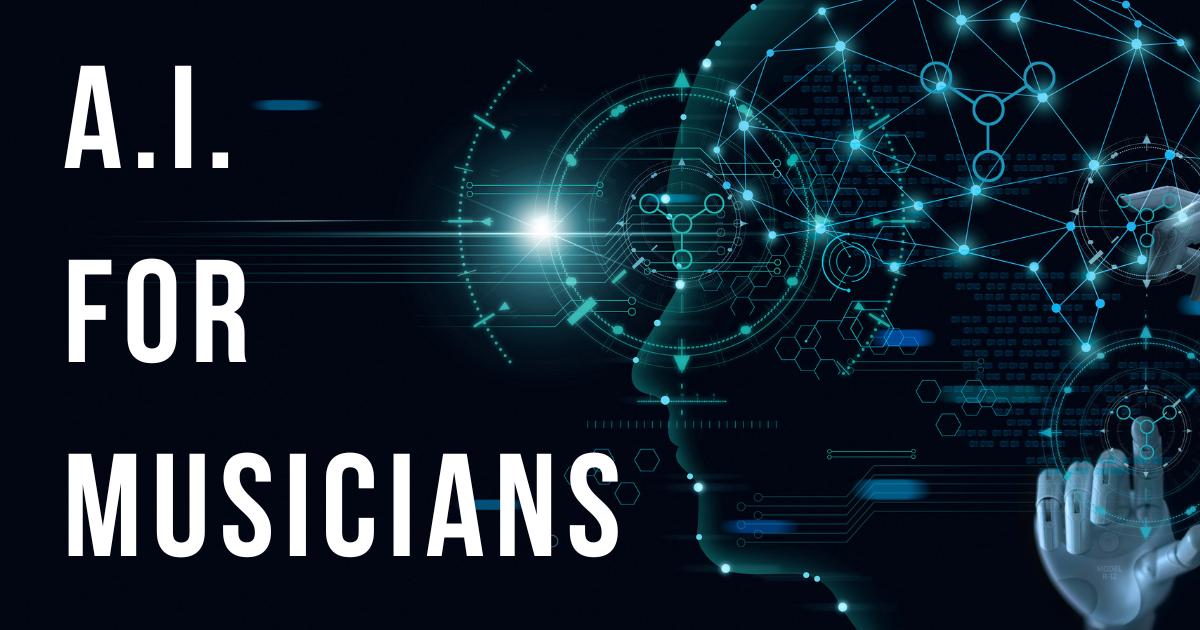 In the past few weeks, many AI (Artificial Intelligence) tools have been published, and they have become extremely popular. One of the first tools was DALL-E, an AI image generator, which flooded social media sites within the first 24 hours after it was published. Chat GPT, an AI language model, became even more popular – more than 1 million people registered on the site in only 5 days.
It's not a question that AI is the future, and we just have to learn to use these tools – the sooner the better. The question is, how can musicians use AI tools to make their lives easier? I have spent some time experimenting with these tools, so here are some ideas.
Writing lyrics (?)
The first thing most people think when it comes to music is asking Chat GPT to write lyrics. After all, it is a "language model". I have seen many people post videos asking Chat GPT to write lyrics.
Well, the good news for us songwriters is that we are not endangered… yet! Chat GPT writes very lame and clichéd lyrics, at least that's my opinion. Here is an example; I asked Chat GPT to write some lyrics in the style of Ed Sheeran:
"Verse 1:
I woke up to a cloudy sky
Thinking 'bout the love that got away
I pour myself a cup of tea
And try to shake the memories

Chorus:
But every time I close my eyes
I see your face and I can't deny
The love that we once shared
I wish that you were still right here"

lyrics were written by Chat GPT
Does this mean that it's completely useless? First of all, Chat GPT (right now) is more like a very smart assistant that works extremely fast and knows almost everything about everything. And the secret with Chat GPT is that the smarter your questions are, the better answers you will get.
You can definitely use Chat GPT as a very advanced "rhyme dictionary". For example, I asked it to create a line that rhymes with this one: "I was standing there" and the answer was: "I couldn't help but stare".
So the answer was not only a word that rhymes with "there," but the whole line actually makes sense because it is in context with the previous line! Chat GPT actually understands the language and can give you relevant lines for your lyrics.
On top of that, let's say you already created your melody, so you know that you need 7 syllables for this next line. What Chat GPT gave me first "I couldn't help but stare" was only 6 syllables. So I told him: "I need a line that contains one more syllable". And here is the answer from Chat GPT: "I was frozen with despair".
This is amazing. Chat GPT doesn't only understand what a syllable is and how many syllables I need, but again, the new line was also in the context of the first line.
You don't like the line? Then ask Chat GPT for more ideas: "give me 10 more ideas"
Its answer:
"I couldn't believe what I saw"
"I couldn't move, I was in awe"
"I was lost in the moment's glare"
"I was struck with a feeling of care"
"I was overwhelmed with emotion's flare"
"I was shaken to the core"
"I was struck by a sudden thought"
"I was left feeling quite fraught"
"I was lost in a sea of despair"
"I was captured by the scene's flair"
So my opinion is that while these AI tools alone don't substitute us, songwriters, Chat GPT is already a powerful tool IF you are smart enough to know how to use it to get the right answers.
Album covers
AI image generators (like DALL-E) are also already fantastic tools – and they are getting better and better with time. Now you don't have to pay a lot of money for a graphic designer because you can create completely new and unique images for your new album or single. And the fact that many of these images look really weird can make it even better because they are more artistic.
The same as with Chat GPT, the secret in AI image generation is asking the right questions – or "prompts" as we call these now. People who create the most amazing images usually use very long prompts. In fact, there is even a marketplace now where people sell not images, but they sell prompts that you can use to create similar images. (Maybe this will be the same with songwriting in the future?)
Writing emails
One of the best use of Chat GPT is asking it to write emails. You may want to send a proper email to a festival or a concert venue, and you just don't want to spend so much time composing the email. So here is what I asked from Chat GPT:
"I want to play in this concert venue called "Bob" with my band. Write me an email so that I can send it to the venue."
The answer:
Sure, here is a sample email you could send to the venue:
Dear Bob,

I hope this email finds you well. My band and I are interested in performing at your venue, and we were wondering if you have any availability in the coming months.

We are a local band that plays a mix of rock and pop music, and we have been performing together for about two years. We have a strong following in the area and have played at several local venues. Attached to this email is a link to some of our music and a list of past shows we have played.

We understand that booking bands can be a competitive process, but we hope that you will consider us for a future show. Please let us know if you have any availability and if you have any questions about our band.

Thank you for your time and we look forward to hearing back from you.

Sincerely,
[Your Name]

email written by Chat GPT
This is just a very simple example, but as you can see, Chat GPT completely understood what I wanted and composed a completely fine email. So instead of writing so many emails to radios, record labels, festivals, venues… you can just ask Chat GPT to write these emails for you, and you can spend more time perfecting, rehearsing, and recording your music.
Conclusion
These are just some ideas, and I'm full of new ideas right now about how to use AI to be more productive. One thing is for sure, AI will bring about a greater change than anything else in the past!
The secret pattern behind successful songs
Get the eBook for $4.99