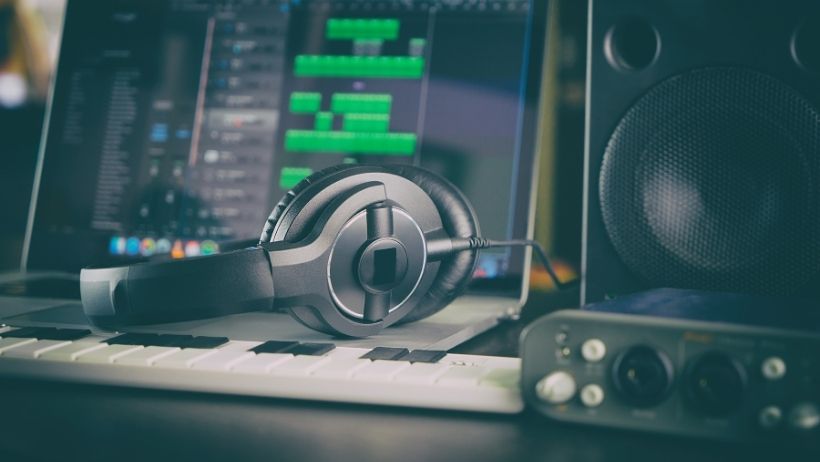 It's extremely easy to record our songs and song ideas nowadays. First of all, we can buy a decent microphone and an audio interface for relatively cheap. Technology is getting cheaper and cheaper (and better) every year. And secondly, there are many free DAWs out there we can use to make professional sounding records.
A DAW (Digital Audio Workstation) is the software we use to record and edit our tracks. And many of us prefer to use PCs with Windows so we don't have the option to use popular DAWs like Garageband which is only available for iOs users. So let me show you my top 5 favorite free DAWs for Windows.
Cubase is my number one choice because I use it for more than 10 years now and I am completely happy with this DAW. It has so many features (even the free version) that most musicians don't need anything else for a home studio. With the free version, you can record 16 audio tracks, and use 24 virtual instrument tracks. I think that's more than enough for most people. For Cubase, the minimum system requirements are a 64-bit Windows 10 Version, Intel i5 or faster CPU, 4 GB RAM, and 25 GB space on your hard drive. Although, if you are using many virtual instruments, I recommend at least 12 GB RAM.
I just found this free DAW recently from PreSonus. This one doesn't look like free software but it is. They created a professional look and design that even the free version looks like the pro version. On top of that, unlike with other free DAWs, you can record an unlimited number of tracks with this one. Unfortunately, it's not compatible with any third-party plugin. System requirements are Windows 10 (64-bit only), Intel® CoreTM i3 / AMD A10 processor or better, 4 GB RAM minimum (8 GB or more recommended), and 10 GB hard drive space.
Pro Tools is another favorite of mine. I highly recommend it, and I know many pro-musicians who use it. Pro Tools First is the free version that you can download from the website. You can record 16 soundtracks and use 16 virtual instruments. There is a limitation so you can only record 4 tracks at a time, but this shouldn't be a problem if you only use it in a home studio – unless you have a really big home studio and you want to record a full band together. System requirements for Pro Tools First are Intel® PC with Windows 10, Intel® i5 processor or higher, 4GB RAM (8GB or more recommended), Minimum of 15GB disk space, USB-port or FireWire-port for ASIO-supported audio device (but you can also install ASIO4ALL to use Pro Tools First with your PC's built-in audio I/O).
Soundbridge is another free DAW that I found recently. It has a relatively nice design (which is important for me), with a lot of features. And Soundbridge is actually very simple, so it's very easy to use it. It has a built-in drum machine which is awesome if you don't want to install any other plugins for drums. If you have a multi-touchscreen, you can use the drum machine to perform your ideas. So this is a very cool feature. Minimum System Requirements: Windows 7, 8, or 10®: 2.0 GHz Intel Pentium 4®/AMD A8® or better, 4GB RAM or more, 3 GB hard-disk space. As you can see, this DAW doesn't require a lot of space, compared to the others.
Audacity is a free, open-source, cross-platform audio software. I know this one for a long time, and I have it on my PC all the time in case I need to do some work really quickly. But the thing is, you can only record and edit audio tracks. There is no MIDI or any virtual instrument option in this one. The other thing I don't like about Audacity is that the design looks horrible. It looks like something from the 90s, it's very outdated. Yes, it's a free software, but we can see other free software with much better visual designs. There is one advantage over the others, Audacity doesn't require as much RAM as other DAWs. The minimum requirement is 2 GB RAM, and you don't really need more, especially if you only record shorter, smaller projects.
The secret pattern behind successful songs
Get the eBook for $4.99